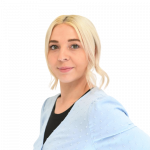 Krystal Salloum
Licensed Realtor®
A little bit about me...
I've always been a dedicated and empathetic individual with a passion for helping others. My background in child development and experience working at a Montessori school has equipped me with valuable skills in nurturing and guiding growth. Despite my love for education, I have chosen to pursue a career in real estate, where I am thriving and enjoying every moment. I love what I do! I get to help people figure out how to love where they live so they can focus on living. Outside of work, I am an avid lover of the outdoors and spend my free time taking in the sun with my family and friends. I have a four-year-old daughter who brings joy and laughter into my life. Additionally, I have a deep love for animals and plan on doing a lot of volunteering at local animal shelters this year. Overall, I am grateful for the opportunities and experiences that have shaped me into the person I am today.
Born and raised in Metro Detroit, I have a deep understanding and appreciation for the local real estate market. Alongside my husband, we have built a successful portfolio of turnkey rental properties over the past few years. This experience ignited my passion for real estate, leading me to obtain my real estate license and pursue a career in this field. I am dedicated to providing exceptional service to each of my clients. I take pride in my ability to listen and understand their needs, allowing me to connect them with the best opportunities that match their requirements. My virtual open-door policy ensures that I am always available and responsive to my clients, returning phone calls and emails promptly.
Ensuring my clients are happy with the outcome of their transaction is my top priority. I understand that buying or selling a home can be an emotional and complex process, which is why I am committed to providing my clients with clear communication, unwavering dedication, and complete transparency throughout the entire process. I have a wealth of experience working with a variety of clients, including first-time home buyers, those looking to invest in properties, and those utilizing FHA or Conventional loans. My broad range of knowledge and experience allows me to assist clients with a wide range of real estate needs. If you are looking for a real estate professional who is dedicated to your success and satisfaction, I would love the opportunity to assist you. With my commitment to clear communication, unwavering dedication, and complete transparency, I am confident that I can help you achieve your real estate goals.